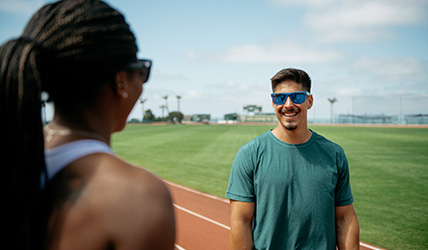 Do I Need Polarized Sunglasses?
It's a good question. And choosing to go with polarized sunglasses depends on one thing: you. Let's look at where glasses with polarization may or may not serve your unique needs.
WHERE POLARIZED EYEWEAR WORKS BEST
Polarized sunglasses are designed for the outdoors. Specifically, in outdoor spots where the sun reflects off flat surfaces, such as the ocean, a lake, and flat stretches of land. Polarized shades filter out the harsh glare commonly found in these places.
Where don't polarized glasses work as well? They can make LCD screens difficult to read. So, if your car dashboard has digital displays, you may wish to think twice about using polarized sunglasses while driving. And if your outdoor adventures take you to shady spots such as forests, you're not likely to need protection from glare.
Then there's snow. While polarized lenses are great for reducing glare in snowscapes, they can make it difficult to spot patches of ice. Some skiers and snowboarders use polarized sunglasses, and some don't.
Which polarized shades are right for you? That depends on what you're into.
HIKING WITH POLARIZED SUNGLASSES
Would you like to bring along some timeless style on your hiking adventures? Then you might consider a pair of polarized Classics. It may be hard to believe that these shades have design roots in sunglasses worn by open-road explorers a century ago. But it's true. That's why we named them for a classic look that's always in style.
With wide rectangular lenses, Torrey Pines provide exceptional coverage to shade your eyes out on the hiking trails. They're one of our most popular sunglasses for hiking, built for action with FDA-approved impact-resistant lenses and sturdy spring hinges.
POLARIZED SHADES FOR GOLFING
While the sun's glare may not be as extreme out on the golf course, golfers love polarized lenses for another reason: color enhancement. Greens are so much greener with a pair of polarized shades!
One of our best-selling sunglasses for golf, Fort Knocks feature a classic silhouette. They're as comfortable on the greens as they are on the veranda enjoying a post-round refreshment. With a form-fitting injection-molded frame that will stay on your face during even the strongest of drives.
Bring some casual cool to your game with a pair of polarized Paso Robles. Named for a town in the rolling hills of California Wine Country, these laid-back shades carry the perfect vibe for a relaxing day out on the greens.
RUNNING GLASSES TO REDUCE GLARE
If you want sunglasses for running, Fast Lanes Sport have it right there in the name! Whether you're cruising down the highway or running along it, these bold shades are ready to go. Embedded rubber nose pads keep the sunglasses secure, while impact-resistant lenses stand up to any bumps you may encounter along the run. All with clean-cut rectangular frames that wear well when your outdoor adventures are done.
For a contemporary look, Premiums Sport offer an updated take on the timeless design of Knockaround Classics. While these unisex glasses may appear high-brow (hence the name), they're priced for everyday use. And built to handle the rigors of active lifestyles!
Don't run in a high-glare environment? You might consider a pair of non-polarized Campeones. These performance-driven wraparound shades have lightweight polycarbonate lenses with an oleophobic and hydrophobic coating that repels water and oil. Plus, UV 400 protection from exposure to the sun's UV light.
AMAZING BEACH SUNGLASSES 
Polarized sunglasses aren't just for getting active. A day lazing with your toes in the sand is also a great opportunity to protect your eyes from glare. While nearly all Knockarounds go great with sandy shores, there are a few standouts to bring along on a beach outing.
Named for a spot on the California coast, polarized Pacific Palisades embrace summer style. Rounded rectangular lenses are finished with a retro brow bar that feels perfect for a laid-back beach day. With models including Shorebreak, Coastal Dunes, Soul Surfer, and Beach Peach, there are so many summer vibes to choose from!
Bringing a bit of sophistication to the sands, Mary Janes offer the perfect mix of a laid-back attitude and subtle smartness. Slender wire arms meet retro rounded frames to present a chic profile that simply begs to ease back with a tropical drink in hand. All the while protected by polarized lenses.
CYCLING GLASSES WITH POLARIZATION
With so many great options from our sport line, you're spoiled for choice with sunglasses for cycling. Just a few include Torrey Pines Sport, Premiums Sport, and Fast Lanes Sport.
But what about non-polarized sunglasses for your cycling adventures? That's another great way to go, and one of the top options is our Campeones sunglasses. Purposefully non-polarized, these wraparound shades feature our new Knockterra™ performance lens tech, so these shades emphasize performance without sacrificing style. No worries about Campeones slipping from your face on the open road; rubber ear pads and rubber nose pads keep the shades secure. What about toughness? They've got FDA-approved impact-resistant polycarbonate lenses and full UV400 protection against the sun's harmful rays.
POLARIZED SUNGLASSES FOR CASUAL OUTINGS
If your idea of outdoor activity leans more towards farmer's markets and relaxing at the park, these polarized glasses may be more your speed.
Aviation style is about as classic as you can get. That's why we modeled our Mile Highs after the timeless teardrop design popularized by pilots during World War II. Unisex and available in a wide range of colors, these polarized shades are at home wherever they roam.
When you want to infuse some elegance, the answer is a hint of cat-eye flair. Few polarized sunglasses present as chic a profile as Deja Views; they feature oversized frames that make a statement without needing to call attention. Dressed up or dressed down, any way you go, versatile Deja Views add a touch of luxe without a luxury price tag.
So, do you need polarized sunglasses? Perhaps a better question might be, "Do you deserve polarized sunglasses?" The answer to that is likely a resounding "yes." Browse our collection of polarized shades to see which ones are right for you.
Written by William McCleary for Knockaround